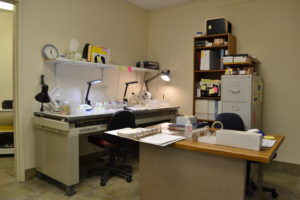 Blood Residue Analysis Laboratory
AINW's blood Residue Analysis Laboratory was established in 1990.  The residue analysis lab has analyzed more than 2,000 projects from: Arizona, Arkansas, California, Colorado, Florida, Idaho, Kentucky, Louisiana, Mississippi, Missouri, Montana, Nevada, New Mexico, North Dakota, Ohio, Oregon, South Dakota, Texas, Utah, Washington, West Virginia, Wisconsin, and Wyoming.  In addition, the residue analysis lab has analyzed international projects from British Columbia, Canada, and Peru.
Residue Analysis Procedures
Your artifacts will be protected in our highly secure and electronically monitored facility.  The Residue Analysis Laboratory at AINW uses the technique of cross-over immunoelectrophoresis (CIEP), to analyze surface residues extracted from stone tools and other artifacts.
The accuracy and usefulness of the CIEP technique was well established in forensic medicine before being adapted for archaeological applications.  Forensic grade antisera are used by our laboratory.
The testing involves several steps from extraction of the liquid sample from the artifact, testing controls of known blood sera, and repeat analysis of positive reactions to confirm the positive results.  The normal turnaround time is 30 days.
AINW provides an Residue Analysis Order Form showing residue testing options that may be selected when ordering a residue analysis study.  Feel free to call John L. Fagan to discuss an appropriate approach prior to placing your order.
Each of our Residue Analysis Reports include:
A letter report summarizing the results.
Lists of the artifacts tested
The types of antisera used.
A brief description of what kinds of animals selected antisera may be expected to represent
A description of the artifacts with positive reactions, if any.
A brief description of our testing and storage procedures.
A chart of the results.
A standardized, more detailed report with description of the laboratory methods and procedures for each project.
Reports are provided in paper or electronic formats (PDF).
Recommended Handling
We recommend that artifacts submitted for analysis be minimally handled to avoid possible contamination.  Ideally, artifacts should be placed into sealable plastic bags without being handled.  For artifacts from subsurface contexts we recommend that 0.25 grams (a "pinch" using a trowel) of sediment in close proximity to the artifact be submitted as a sample for analysis in addition to the artifacts.  This will provide verification and control for the extracted residue.  We have had good results on artifacts from both surface and subsurface contexts and from curated museum collections.