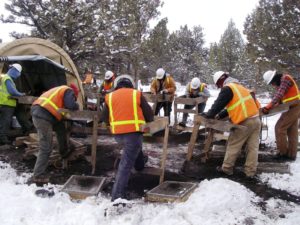 AINW is among the most highly qualified cultural resource management (CRM) firms in the western United States and offers the most capacity of any CRM firm in the northwest. The company provides archaeological, historical, architectural history, Geographic Information Systems (GIS), and specialized laboratory services. AINW has over 24 years of cultural resource experience regarding a wide range of regulatory compliance and cultural resource projects.
AINW professional staff have extensive training and experience with federal, state, and local cultural resource laws, regulations, guidelines, and procedures. Our staff includes specialists in prehistoric and historic-period archaeology, historical research, architectural history, underwater archaeology, faunal analysis, historic artifact analysis, lithic technology, GIS, human osteology, and blood residue analysis. We also have a skilled technical and support staff involved in field archaeology, laboratory analysis, and report and graphics production.

All of AINW's senior and supervisory staff meet the Professional Qualifications of the Secretary of the Interior's Standards and Guidelines for Archaeology and Historic Preservation (36 CFR 61, Appendix A) and have completed training in implementation of Section 106 of the National Historic Preservation Act (NEPA). Several staff also have completed training in NEPA, Section 4(f), and historic landscape evaluation.
AINW's professional staff includes 22 archaeologists, and 3 architectural historians and historians.
AINW's professional staff includes 4 Ph.D. archaeologists and 12 M.A.-level archaeologists.  In all,  9 are Registered Professional Archaeologists.
Among our professional archaeological staff are experts and specialists in:
Underwater Archaeology
Human Osteology
Faunal Analysis
Ethnography
Our 3 architectural historians have expertise in:
Historic American Buildings Survey (HABS) and Historic American Engineering Record (HAER) documentation
Photographic recordation of standing structures for mitigation of effects and assessment of historic buildings, structures, and districts for National Register of Historic Places (NRHP) eligibility.
Preparation of NRHP forms
Assessment of project effects following federal and state guidelines and procedures.