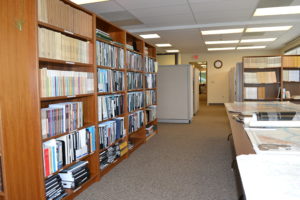 AINW has a large research library with extensive materials regarding Pacific Northwest archaeology, history, ethnography, historic artifact identification, and related disciplines (geology, biology, osteology, and botany).  Our library collection contains over 4,000 publications as well as site forms and map files (USGS and historical maps).  AINW also has a collection of rare documents and primary sources not readily available elsewhere. Our library contains books, published reports, and reference materials covering the following topics:
Columbia River Gorge History
Architecture and Historical Architecture
Transportation and Railway History
Oregon City Histories
Oregon Counties Histories
Washington History
Portland History
Willamette Valley History
Portland Basin and Lower Columbia History
Oregon Cascades Archaeology
Oregon Coast Archaeology
Oregon Plateau Archaeology
Southern Oregon Archaeology
Western Washington Archaeology
Clark County Archaeology and History
Faunal Analysis and Osteology
Geology and soil surveys
Vegetation/Flora
Historic Merchandise Catalogs
Historic Sites
Artifact Identification (ceramic, glass, metal, other)
Obsidian studies
Great Plains/Eastern States Archaeology
Washington Plateau Archaeology
Northwest Coast, Idaho, and Canada
Archaeology and History
Government Programs and Agency
Histories
Historical Archaeology
Prehistoric Archeology
Cultural Resource Management
State and Regional Geographic References
Agriculture, Ranching, and Irrigation
American West & Pacific Northwest
Early Northwest Explorers
Barlow Road & Pioneer Trails
Geneology
Lithic Technology
To ensure our staff has access to the most current information and developments in the field of archaeology and other related disciplines, AINW subscribes to a wide variety of local, regional, and national journals and professional publications.
AINW has created base maps for Clark County, Washington, that have the locations of all recorded archaeological sites and all archaeological surveys filed prior to 2010.  The Washington State Department of Archaeology and Historic Preservation has recorded survey locations beginning in 1997.  AINW's records are more comprehensive than those of DAHP for the period prior to 1997.